Wickersley students must be in perfect uniform at all times.
The wearing of a uniform indicates belonging to an organisation and a willingness to comply with the rules of that organisation, and also means that students are dressed for business and ready to learn.
Students who attend school out of uniform with no valid reason will be kept in isolation for the day. Students who repeatedly defy the school's uniform rules may face exclusion.
Sweatshirt or Cardigan (c) (l)
V Neck Sweatshirt or Cardigan. Bottle Green. Only items with the school badge, supplied by our official uniform suppliers are acceptable. During the Summer months, an alternative outdoor garment cannot replace the school sweatshirt.
Shirt (c)
Shirts should be plain white with a collar and buttons to allow the tie to be clipped correctly. Fitted, collared shirts are permitted.
Trousers / Skirts (c)
Trousers should be plain black, smart tailored trousers. Leggings, jeans or canvas, combat style, harem style, tracksuit or jogging bottoms are not allowed. Slim fit trousers are allowed as long as they are a trouser material, not denim. Skirts should be black only, not too tight and approximately knee length.
Clip-on Tie (c) (l)
Bottle green/black/gold diagonal stripe.
Socks
Socks should be black.
Outdoor Coat
A suitable outdoor coat may be worn.
Jewellery
No more than one small earring, sleeper or stud in each ear lobe, one small ring only. No other jewellery or forms of piercings are permitted.
Footwear
Shoes must be plain black leather and suitable for school. Plain black laces only. Pumps, canvas shoes and sandals are not allowed even if they are black. Black shoes with patterns, stripes or logos on them are not allowed.
October Half Term to Easter – students are allowed to wear plain black flat-heeled ankle boots or sensible winter boots.
Make-Up
Make-up should be discreet and minimal with no false eyelashes or false fingernails. Nail colours should be light neutral.
(c) – compulsory
(l) – logo
Hoodie – black/yellow (c)(l)
T-Shirt – black (c)(l)
Shorts/tracksuit bottoms/sports leggings – black (c)
Trainers – sports trainers required (no canvas/pumps etc)
Socks – black/white/green/yellow sports/football socks
We also recommend;
Base/thermal layer – black

(c) – compulsory
(l) – logo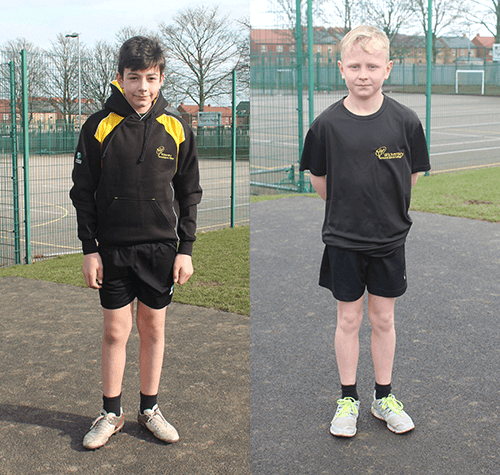 All school uniform items can be purchased from:
Pinders School Wear
16 College Walk
Town Centre
Rotherham
S60 1QB
01709 720043
A-Print Ltd
138 Morthen Road
Wickersley,
Rotherham
S66 1EA
01709 709977
Ella Bella's Uniform & Personalisation Boutique
1 Main Street
Bramley
Rotherham
S66 2SB
07960 787347
For an additional payment there is also an option to have an initial and surname screen printed on the reverse of the black hoodie or the reverse green side of the rugby shirt.
A strict policy of FORENAME INITIAL and/or SURNAME ONLY (no nicknames) will be adhered to by our authorised distributors; no variation of this policy will be permitted.